Marine | Recreational | Parking Lots | Commercial | Industrial | Institutional
While working in the a shipyard in the early 1970s, it become evident to John TG Vickery that the need for a compact, durable power pedestal for dry dock and ship docking was incredibly necessary. The idea of localized power pedestals was unproven, and the options available would very rarely survive the harsh environments of the Marine Industry.
As a result, the VE-2/30 power pedestal was born! While its yellow exterior has lost its popularity, the sturdy construction, practicality, and component flexibility quickly became the standard for the industry.
Today, Vickery Electric manufacturers a large assortment of rugged and durable power pedestals for all your power requirements. Because they are designed and built by Vickery Electric engineers and electricians, they are guaranteed for long life and ease of maintenance. Any manufacturer's components can be substituted, so if there are specific installation guidelines to be met, a Vickery Electric power pedestal will meet those needs! From metered and unmetered service entrance units, to distribution allocation to local breaker and receptacle requirements, Vickery Electric has a pedestal to meet any need!
Vickery Electric's power pedestals can be found throughout Ontario. On dock systems, shorelines, city park areas and Provincial parks, Vickery Electric's power pedestals are a popular choice for your power requirements! Please see the links below for cut sheets for all of the power pedestal options Vickery Electric has to offer.
A Complete Weatherproof System of
Electrical Service Entrance, Distribution and Power Outlets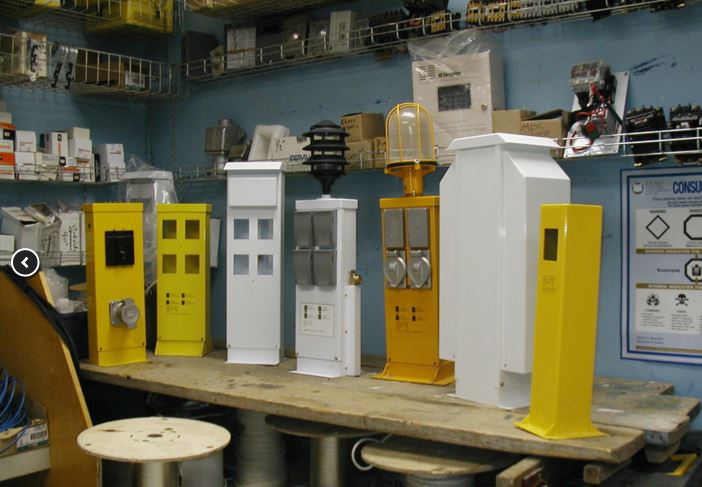 for questions or design specifications, please contact us directly:
Vickery Electric Power Posts
PO Box 302 | Whitby, Ontario | Canada | L1N 5S4
(905) 668-1108
It All Begins With Great Service
Great service is not just about how many trucks or people you have on the road – it's the ability for those people to get the job done right the first time – on time and on budget and to Code.
Vickery Electric has the right people with the right qualifications and that's why we can guarantee the workmanship, professionalism and expertise of our people in writing.
Call us first with your project needs.